Patton On 1945 Bond Drive Signs Picture Of His Vehicle Flag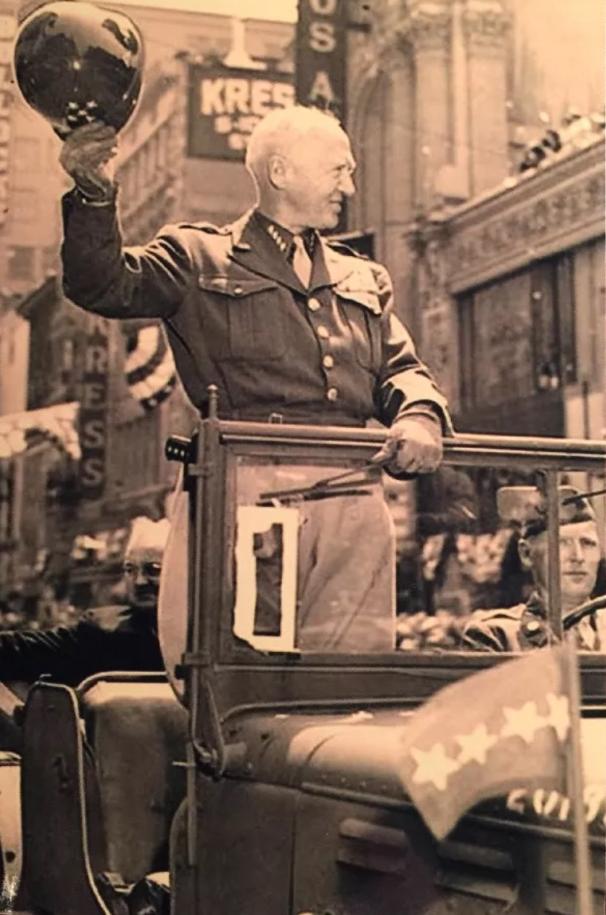 On June 18, 1945, General George S. Patton returned to the States from Germany for a U.S. War Bond Drive and traveled across the country from Boston to Los Angeles giving speeches. He presented an autographed vehicle banner with for stars to the Sixth Armored Division Association and then had several photographs made of the flag with the inscription which he then personally signed in ballpoint pen and presented to close friends and associates. This framed display belonged to Patton's son-in-law , Colonel John W. Waters, who also signed it and years later gave it to a friend, autograph collector David Friedman. Waters was captured and taken prisoner by the Germans in 1943 while commanding a tank unit in Tunisia. While imprisoned in a camp near Hammelburg, Germany, he was shot and severely wounded. He was later liberated by the Third Army, commanded by Patton, who said he did not know his son-in-law was in the camp. As a result, Patton was reprimanded by his superior, General Omar Bradley. This display is also signed by Major General Robet W. Grow who commanded the 6th Armored Division during the Battles of Normandy and the Bulge, Major Homer C. Milford, Divisional Chaplain of the 6th Armored Division, Colonel John L. Hines, Jr.. who headed the 6th Division's Combat Command A, and General Patton's son, George, then a cadet at West Point. Purchased from the Friedman Estate.
This document is then a souvenir of both Patton's 194 Bond Drive in the U.S. as well as his earlier successful but controversial effort to rescue his son-in-law, John Waters, from the Nazi Hammelburg pison camp in 1943.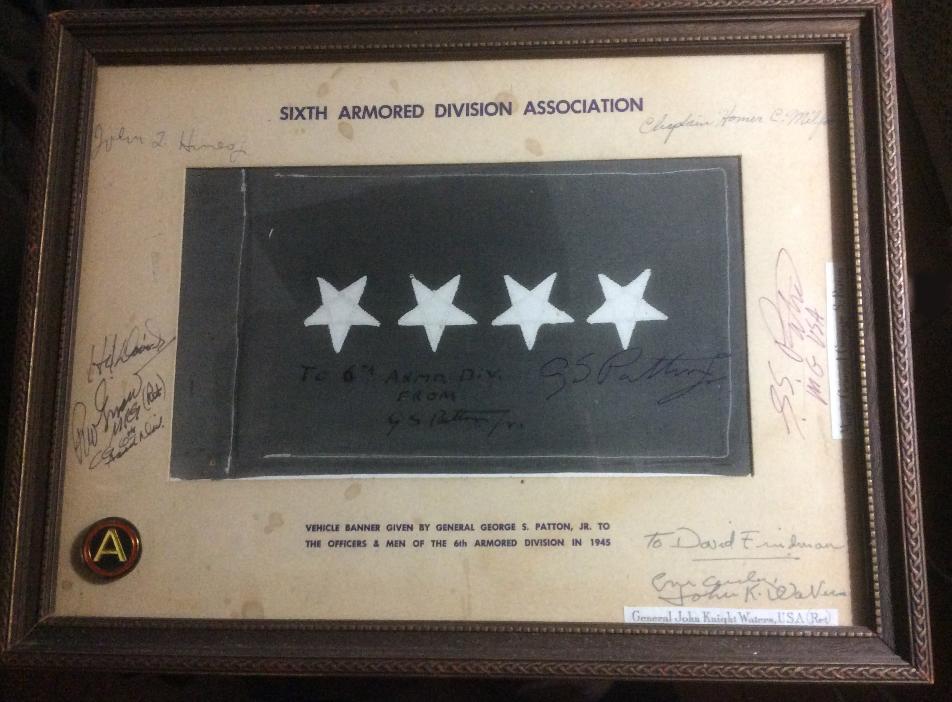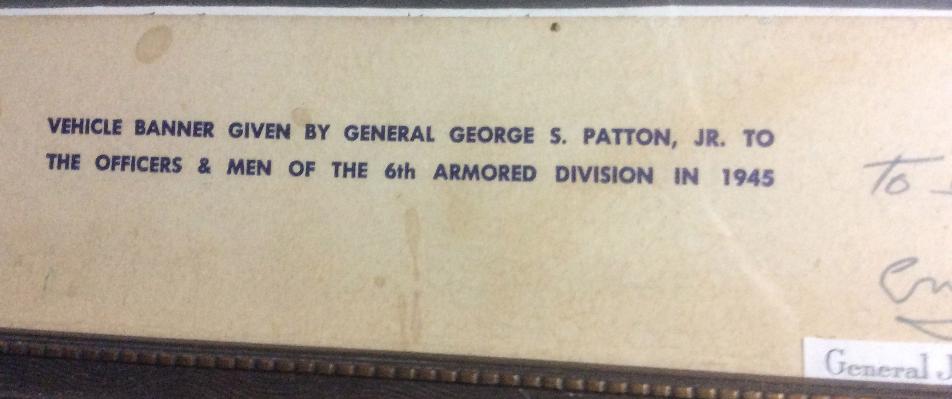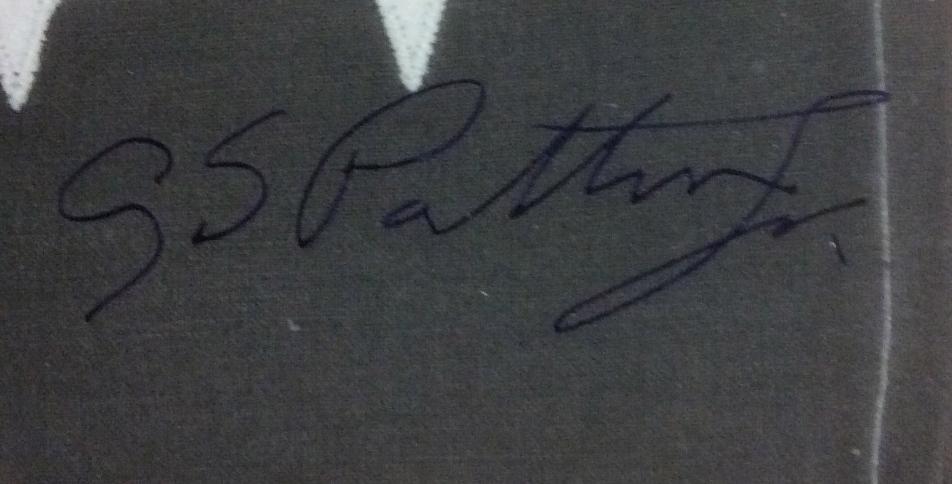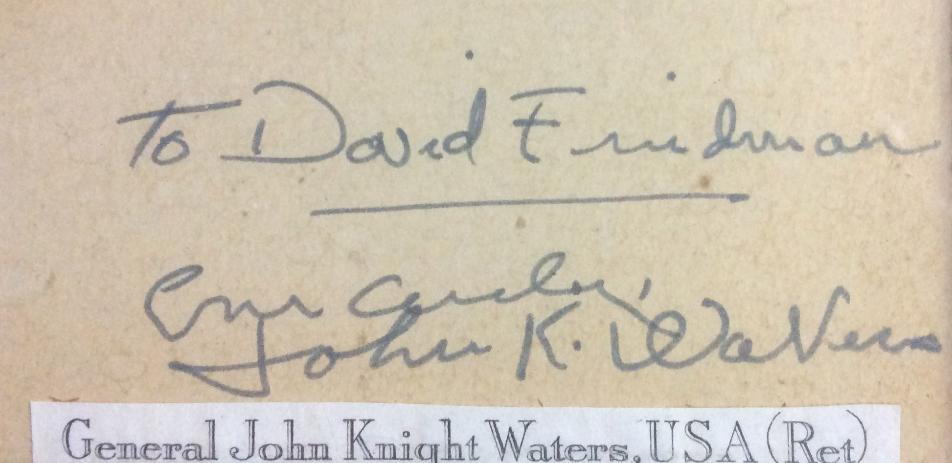 Patton Rescuing John Waters & Other American P.O.W.s From German Prison Camp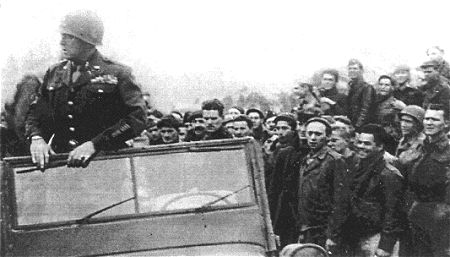 Patton Driving Through Times Square In NYC During 1945Bond Drive