Young Lieutenant Douglas MacArthur's Love Letters To Lucretia LeBourgeoise, 1907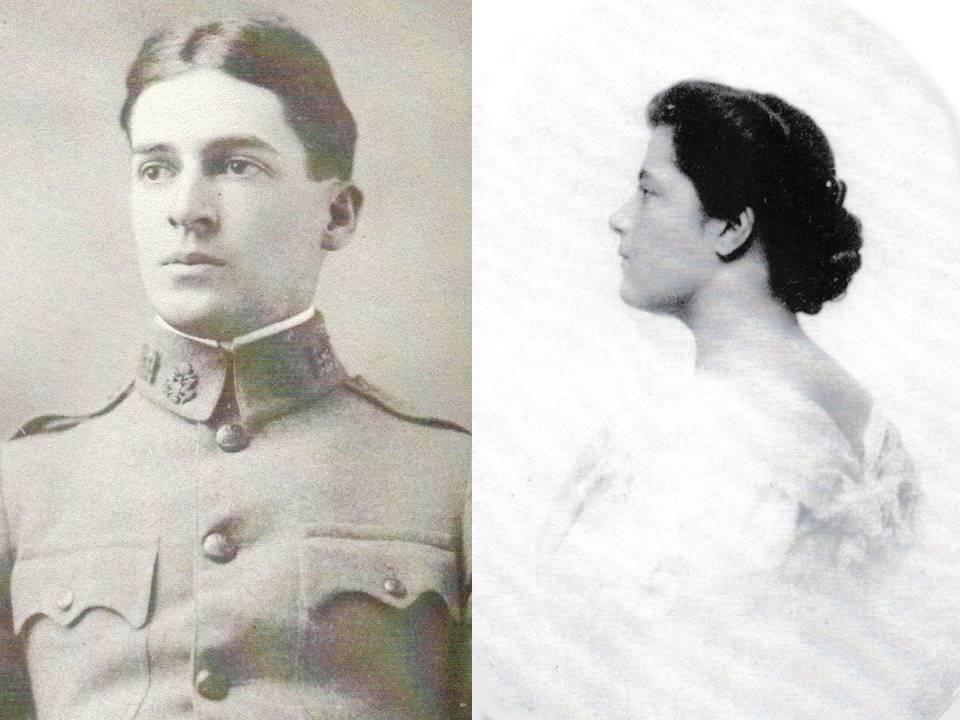 Douglas MacArthur graduated from the United States Military Academy at West Point in 1903. As a Second Lieutenant in the U.S. Army Corps of Engineers, the young officer performed engineering duties in various locations around the country including Kansas, Milwaukee, Pittsburgh, and Washington D.C. It was during this period, in 1907, that he first met a very attractive young lady in her twenties from a wealthy family named Lucretia LeBourgeois. She was living in New York and Washington. Young Douglas fell madly in love with her and sent Lucretia romantic letters from his different cities addressing her with a seemingly never-ending cache of pet names: My Sweet Child, Lucretia Dear Child, My Darling, My Beloved, My Own Darling. He tells her over and over how much he loves her and dreams of her at night. Ironically, Lucretia went on to marry another military officer, Robert Van Horn, who wound up on MacArthur's staff during the Pacific Campaign. Lucretia Van Horn became a celebrated artist and later assisted Diego Rivera in the creation of some of his famous murals. These private letters from MacArthur, purchased at an estate auction, were found in a trunk in the basement of Lucretia's home in Upstate New York after she passed away in 1970, six years after General MacArthur's death.
Lucretia's Background: Lucretia Blow Le Bourgeois Van Horn (1882–1970) was a noted American artist. When she was eighteen, she enrolled in the Art Students League of New York. She then traveled to Paris in 1902 to continue her studies at the Académie Julian where she was the first woman to be awarded the Concours Julian-Smith in 1904.[1][2] On her return to the United States, she began to earn commissions mainly for her meticulous illustrations in magazines and books, like those she drew for Helen Hay Whitney's book of poems, entitled Herbs and Apples (1910). In San Antonio, Texas, she helped form the San Antonio Conversation Society in 1924. In 1926 she met Diego Rivera. As Rivera was finishing his mural project at the Ministry of Education in Mexico City, Mrs. Van Horn joined him and other artists in the production of the work. Rivera painted her face in one of the murals on the third floor of the building. For four years (1928–32), she and her husband lived in Berkeley, California where she joined various art leagues and worked with prominent artists in the Bay Area, including John Emmett Gerrity, David Park and Galka Scheyer. She also became a member of the San Francisco Art Association and the Society of Women Artist, won several notable awards, and was included in a major international retrospective at the Legion of Honor in San Francisco as one of thirty-five American artists. She returned to Berkeley in 1941 after her husband died. She contacted an old Berkeley colleague, Marjorie Eaton who lived in Palo Alto on the Juana Briones Ranch, owned by Ms. Eaton's mother. There she spent the last twenty-eight years of her life. Mrs. Van Horn's life was peripatetic and at times difficult. Her mother died when she was three, and shortly after moved from her family's sugar plantation on the Mississippi River to New Orleans. When she fourteen, she went to live in Washington, D.C. with her socially and politically involved aunt and uncle, Martha and Herbert Wadsworth. In Washington she met Douglas MacArthur, who fell in love with her, as evidenced by a recently discovered cache of letters written to her by him. Around the same time she met her husband Robert Osborn Van Horn; they were married in 1908. Van Horn was also a military officer who subsequently served under MacArthur during the First World War and retired as a brigadier general in 1940.